Kevin Smith on solar job growth and the IRA
Article by Kevin Smith, CEO of the Americas: 
An exciting buildout of clean energy careers is in our future
It's hard not to be excited about the transformational opportunities ahead for clean energy, especially solar power, which is the lowest-cost and fastest-growing energy source on the planet. After decades of talking about a future powered by the sun, we are now seeing the energy industry and consumers race towards solar, making that future not only possible but highly probable.
This future means more affordable energy, less pollution, increased energy security, and millions of new quality jobs in communities across our country alongside a worldwide solar industry in the trillions of dollars.
A renewable energy future looked promising even before the passage of the Inflation Reduction Act (IRA). With this new law in place, we are on the verge of an almost-unprecedented buildout of a new energy reality.
 Solar jobs continue to accelerate
The Political Economy Research Institute (PERI) at the University of Massachusetts Amherst has released a new study that the IRA will create nearly 5 million jobs from clean energy investments over the next decade.
The U.S. solar industry employs just over 255,000 workers as of 2021, according to the 12th annual National Solar Jobs Census. The new law is a once-in-a-generation opportunity to accelerate our clean energy future and help the solar industry get from 4% of U.S. electricity generation today to its goal of 30% by 2030. To meet the 30×30 goals, SEIA estimates there will be at least one million direct jobs in the solar & storage industry by 2030. The indirect and induced jobs also created will take that number closer to two to three million jobs created by the solar industry.
The new IRA law contains 10-year tax incentives that will finally create a stable policy environment for job growth, while making meaningful progress on climate change. Just compare that to the fossil fuel industry, which has received tax incentives embedded in the tax codes for many decades, and currently receives $20 billion a year on direct federal subsidies, according to a study by the Environmental and Energy Study Institute. Of that $20 billion, $16 billion goes towards oil and gas, while the remaining $4 billion goes to coal.
Even at its peak volume output back in 2008, the coal industry employed just 90,000 people, with coal industry employment falling for decades due to extensive automation and natural gas switching. Now coal employs only about 60,000 people, with few industry experts expecting any potential for growth, with continued job losses the more likely scenario.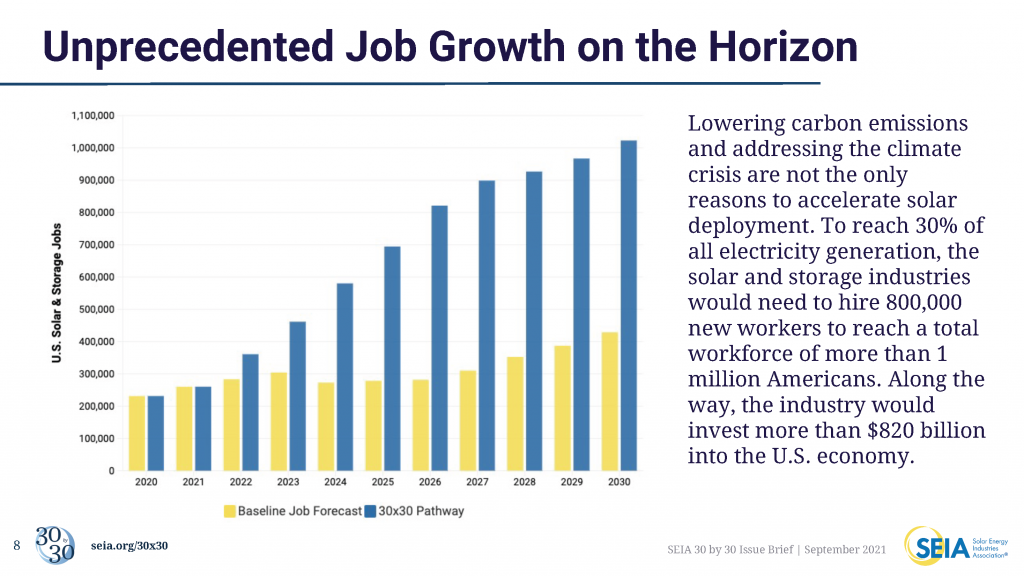 Jobs across the spectrum
A solar industry that employs more than 1 million people will be a huge player in the job market.
Inside Lightsource bp, we have a wide range of jobs from accounting and corporate finance to engineering, project management, construction management and legal. We have positions in marketing and community relations. The development part of our business has jobs in land acquisition, real estate, and environmental affairs.
Multiply these jobs identified in our 200-person workforce by the hundreds of solar companies across the industry and there really are unparalleled opportunities.
As I said, it's hard to not get excited.
Many of the skills developed by workers in the fossil fuel industry are transferable to renewables, particularly in development, project management, and construction. Development jobs include working with land issues, siting, zoning, interconnection, and power contracts, just to name a few. Project management, engineering, and construction opportunities will spike sharply as new projects move forward to implementation.
Construction
These are the core workers needed to make this unprecedented build out a reality. At Lightsource bp's projects in construction in 2022, we have already employed well over 1,500 construction workers on our sites, expending more than one million labor hours this year so far.
Our new 130-megawatt project in Alabama has more than 500 workers onsite right now. These jobs last between six to 12 months, depending on the specific part of the project. Some may say these are only short-term jobs, but the 10 million people in the construction industry dedicate careers to building projects across the country, from housing and hospitals to energy projects and roads. Engineering, Procurement and Construction (EPC) firms in the solar industry are accustomed to moving from one project to the next utilizing a mix of local and permanent employees, training local workers who then find themselves with a new career in solar.
Major EPC firms including McCarthy, a key Lightsource bp partner for project construction, have supervision and management paths that allow employees to work their way up in the company.
Most of our construction projects rely on a workforce that's about 70 percent local. Even if we use a national construction company with experience in such large projects, it's easier and more cost effective for our contractors to use local workers than to bring in outside workers. That creates an opportunity for craft workers in solar host communities to get on-the-job training and skills development.
There are two very important components of the IRA designed to invest specifically in the people who work in the industry. The Inflation Reduction Act contains requirements that companies building renewable energy projects that hope to qualify for the tax credits must pay something called "prevailing wages." Prevailing wage rates guarantee strong worker pay structures, thus creating a series of well-paying jobs that send ripples through an entire local economy.
The Inflation Reduction Act also includes an apprenticeship program that will enable the creation of more skilled workers. All these people-focused components of the bill are why I believe we'll be an industry that equitably employs at least 1 million Americans by 2030.
Operations and maintenance 
All power plants require workers to monitor, operate, and maintain their systems. The fossil fuel industry employs operations specialists who run and maintain their production facilities. The solar industry needs people with that experience, too, to ensure the growing number of solar facilities can run safely and efficiently.
These jobs include maintenance, monitoring and optimization, on-site inspections, and caring for the specific pieces of equipment that make the solar industry work. For example, most utility-scale solar power plants today use trackers, which is the technology that rotates panels to keep them pointed at the sun as it moves across the sky. Each row of trackers has motors and other components that need monitoring to ensure proper operation. Anything with moving parts requires maintenance and upkeep, and that requires skilled workers for those jobs.
As we've seen from my colleague Alyssa Edwards, we've also been able to put farmers to work, using shepherds and their sheep to maintain vegetation under the panels. Agrivoltaics, the intersection of solar photovoltaics and agriculture, not only provides job opportunities and revenue for farmers, but there are bonus benefits in soil health and carbon sequestration associated with the sheep's activities. Alyssa will be writing more about that later.
Talent
The opportunities for diverse, talented people are wide open in the solar industry. Right now, we're looking for people in all facets of our business, from development to real estate, engineering, legal, communications and human resources.
 One trend I've noticed is that we're seeing people in the early or middle stage of their careers who are looking to move from fossil fuels to renewable energy. They've got enough experience to add value, and are looking to adapt to a new world powered by clean energy. We welcome people at all stages of their careers to join us in resolving the climate crisis and building a clean energy future for all.
Kevin Smith first published this article on LinkedIn in on September 5, 2022. To leave a comment or question, please view the original post here.
About the author:
As CEO of the Americas, Kevin Smith leads the expansion of Lightsource bp's solar activities in the U.S. and regionally. Kevin joined Lightsource bp with over 30 years of experience in the energy industry, with the last 15 years in renewable energy (solar and wind). Kevin has developed and built energy projects in more than a dozen countries across five continents, while securing long-term electricity sales contracts with total cash flows in excess of $55 billion. Smith has held CEO and senior executive positions with a number of energy companies, including SolarReserve, Invenergy, Insight Energy, Rolls-Royce Power Ventures, and Indeck Energy Services. Kevin earned his MBA in Finance from the University of Chicago and his Mechanical Engineering degree from Purdue University. He is on the board of the Solar Energy Industry Association (SEIA).