Where are you buying clean energy?
Fifth article in a series by Emilie Wangerman, SVP, Head of Business Development:
The location of your business operations can determine renewable procurement options
In my last article, I explained how the newly passed climate and energy legislation impacts renewable energy buyers. And the article before that explained who you need on your team to make sure your business has a successful procurement plan.
Energy purchasing options also depend on where your business operations are located and whether that market is regulated, deregulated or a hybrid. You will also want to consider whether you are looking for direct procurement or whether you will procure through a contract for differences, also known as a VPPA or financial settlement.
While your location may have some limiting factors, don't discount the amount of power you have—as a large employer, taxpayer, and energy customer— to secure a deal to achieve your clean energy goals.
Regulated markets
Thirty-one states have what we call "regulated" electricity markets. In a regulated energy market, customers purchase electricity through a pre-determined utility company; there is no competition in the marketplace. Utilities generate electricity and charge rates determined by a regulatory agency, often called a Public Utility Commission (PUC) or a Public Service Commission (PSC). These regulated markets are mostly located in the South, Midwest and West.
The Federal Energy Regulatory Commission, (FERC), describes a traditional wholesale electricity market as one "where utilities are responsible for system operations and management, and, typically, for providing power to retail consumers. Utilities in these markets are frequently vertically integrated – they own the generation, transmission and distribution systems used to serve electricity consumers."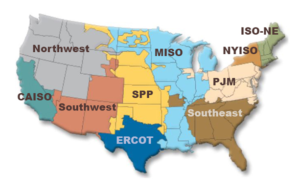 If your business operates in a regulated market, and you want to procure solar energy from a project within that same market, you can coordinate with your utility so they may procure it on your behalf. This process of purchasing through your utility is referred to as "sleeving."
These days, many regulated utilities are expanding their portfolio outside of traditional fuels to include renewables. Utilities either develop wind or solar independently or contract with developers like Lightsource bp to buy renewable electricity.
In the first quarter of 2022, 23.5 percent of U.S. electricity was generated by renewable sources, and growth is continuing.
Many utilities allow the purchase of renewable energy through what is called a "green tariff," which is a price structure or electricity rate for renewable energy that is offered by a utility and approved by the state's energy regulator. These tariffs allow eligible businesses to buy up to 100 percent of their electricity from renewable sources.
These arrangements often depend on whether the utility has sufficient renewable energy in its portfolio to meet total customer demand. When there is a shortfall, or limitations to the utility's procurement on your behalf, the alternative is to contract using a VPPA. One example of a VPPA project is L3 Harris, which has an agreement with Lightsource bp for our Elm Branch solar project in Texas.
The VPPA provides the additionality of a new clean energy project added to the grid and satisfies the need for renewable energy credits. However, the energy is not physically delivered to a business's operations.
Deregulated markets
In a deregulated market, competition has been introduced through a wholesale market where customers are able buy and sell power from a variety of energy providers.
Businesses in deregulated markets, such as Texas, the Midwest or the Mid-Atlantic states, can procure clean energy directly from the renewable power provider. The wholesale markets that are deregulated are referred to as RTOs, or Regional Transmission Organizations, or ISOs, Independent System Operators.
In many cases, this is a simpler process, because the business is buying its energy directly from the provider.
The terms "regulated" or "deregulated" markets may be confusing, because all energy entities are regulated at some level. However, the term deregulated generally refers to whether you can buy and sell power on an open market or if you must work through a set utility.
Hybrid arrangements across the country
Businesses that have multiple facilities in regulated and deregulated markets often must navigate both systems to satisfy their electricity needs.
For example, a company that wants to expand into Georgia and use renewable energy will have to know first that it's a regulated market and then find the utilities that provide green tariffs to help satisfy those electricity needs.
Other parts of that business may source their renewable energy directly from the provider, such as in Virginia, which has a deregulated electricity market.
Leveraging your power
If your business is a significant employer in your community and a major utility customer, you have more influence over the availability of renewable energy than you might think.
For example, Pennsylvania State University wanted to use solar energy to power its facilities around the state. They contracted with Lightsource bp to design, operate and maintain a 70-megawatt plant that allows the university to power 25 percent of its facilities with renewable energy. This deal has enabled Penn State to save money and directly procure its electricity.
Another perfect example of an energy customer leveraging their purchasing power to procure renewables is our recently announced collaboration with Entergy and U.S. Steel.
U.S. Steel, a major industrial energy user, sought clean energy to power their advanced steel mill in Northeast Arkansas. U.S. Steel worked with their utility, Entergy, to source energy from our project in that market.
The Driver Solar project will be Entergy Arkansas' largest solar facility, power the production of verdeXTM: U.S. Steel's sustainable steel product, made from recycled steel content at the Big River Works facility.
Through collaboration, Entergy benefits, U.S. Steel benefits, and we as the developer can develop the asset to serve both the utility and customer's needs.
No matter where you are in a regulated, or deregulated market, or some combination of both, there are clean energy procurement options available to you.
In this series, I have covered the what, the why, the who, and the where of renewables procurement. My next article will discuss demand. How much energy do you need, and when are you using that energy?
Emilie Wangerman first published this article on LinkedIn in on August 23, 2022. To leave a comment or question, please view the original post here.
About the author:
Emilie Wangerman brings to Lightsource bp a deep understanding of U.S. power markets, with 10 years of energy industry experience on both the buy and sell side of solar and storage. Prior to Lightsource bp, Emilie worked at Pacific Gas and Electric ("PG&E"), GE Renewable Energy, and Intel Corporation. Emilie received her Bachelor of Science in Chemical Engineering and Psychology, from Rensselaer Polytechnic Institute, a Master of Business Administration at Duke University, the Fuqua School of Business, and a Master of Environmental Management, at the Nicholas School of the Environment. Read Emilie's leadership story here. 
Partner with us: Energy Buyers
Discover how Lightsource bp works with largescale energy buyers to execute power purchase agreements customized to your business needs.
More from our Energy Buyer Guide