GIS and solar development
Article by Lindsey Guinther, Director of GIS at Lightsource bp, USA: 
How hazards geography enables more resilient renewable energy development
Last year for Geography awareness week I shared an article about being a hazards geographer in the solar industry. Lightsource bp shared a story about how we are mapping our way to a more resilient future as well. To celebrate Geography Awareness Week this year, I wanted to share more about the intersection of hazards geography and renewable energy development.
We live in a world where deployment of clean renewable solar energy is needed to combat climate change. At the same time, we are seeing growing losses from natural hazard impacts as climate change increases the severity of natural catastrophes. The renewables industry is not immune to these losses.
At Lightsource bp, we are leveraging Geographic Information Systems (GIS) to mitigate climate-related risks for our solar projects in this complex environment. For example, GIS analysis can help us anticipate which natural hazards pose the greatest threat to solar farms in a particular geography and inform our plans to reduce potential negative impacts.
Initiatives such as these have helped Lightsource bp win increased confidence from insurers, in an insurance market hardened by natural disaster losses in recent years. Insurers are looking very closely at project siting, project design and mitigation approaches to minimize losses, creating additional hurdles for solar development. Lightsource bp has been able to differentiate itself as a company that works collaboratively and proactively to mitigate losses through resilient design and practices, including geospatial analysis.
For instance, our Oxbow Solar project will generate 345MW of clean power on land in Pointe Coupee Parish, Louisiana previously deemed "uninsurable" due to perceived flood risk. This assessment felt unfair considering the county is home to a coal-fired power plant and a population of at least 20,000 people. Furthermore, as can be seen in the graphic below, people living in communities near the Oxbow project location face higher social vulnerability when compared to the state and the nation according to the Social Vulnerability Index developed by the Hazards and Vulnerability Research Institute. Social vulnerability is the susceptibility of social groups to the adverse impacts of natural hazards, including disproportionate death, injury, loss, or disruption of livelihood. Don't those communities deserve an investment in clean power and energy security as much as any others?
As a hazards geographer, this was an opportunity to leverage geospatial data to first understand and map the flood risk and then to collaborate with construction and engineering to implement avoidance and mitigation approaches through technology selection and design modifications. We were able to change insurers' tunes by demonstrating how we use geospatial analysis to integrate resiliency into our projects through all stages, from design through commercial operation, minimizing risk to the project. This enabled Oxbow, currently under construction, to provide a $300 million investment in Point Coupee Parish's clean power infrastructure, representing a major milestone in accelerating Louisiana's relatively slow energy transition.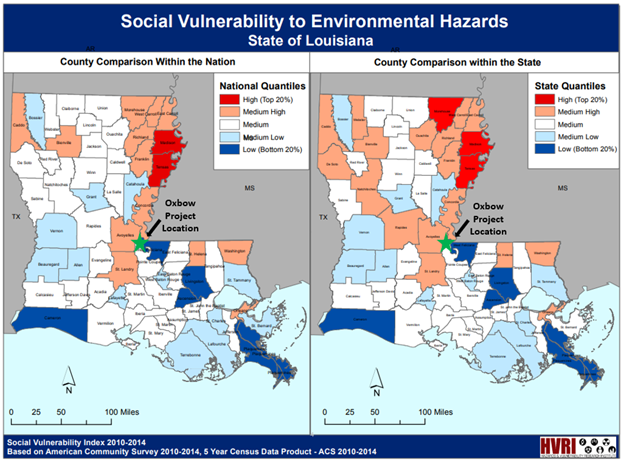 That is all to say, that hazards geography plays a crucial role in enabling successful renewables development. I am hopeful that the proactive measures in place at Lightsource bp will help us build more solar infrastructure across the United States, accelerating decarbonization in the energy sector and ensure that clean and resilient energy is available in vulnerable communities.