Lightsource bp communications campaign wins Inclusive Solar Outreach award from the U.S. Department of Energy
Lightsource bp's "Celebrating Solar Career Paths for Veterans" multimedia campaign has been selected as a winner of an Inclusive Solar Outreach award from the U.S. Department of Energy Solar Energy Technologies Office (SETO) for exemplary strength in human-centered, inclusive storytelling through photography, video, and earned media.  
Lightsource bp's United States communications team launched the campaign in November 2021 to encourage the industry to adopt programs that help create a more inclusive solar workforce, reaching underrepresented audiences about solar energy adoption. The campaign highlighted the power of shared sustainability goals to make meaningful impact for underserved populations, centering on an apprenticeship program for military veterans and other underrepresented community members at Lightsource bp's Elm Branch Solar farm in Texas.  
"Without a doubt, this story has made an impact on our industry by helping raise awareness of available programs to foster inclusion in the solar industry," said Lightsource bp CEO of the Americas Kevin Smith. "I applaud the recent Inflation Reduction Act for incentivizing apprenticeship programs that will help bring new, skilled, and diverse talent into solar. We have an opportunity to ensure that such programs serve underrepresented Americans who need them most." 
httpsss://youtu.be/FUfNt2_cdIU
Lightsource bp's 163MW Elm Branch Solar project was built with help from 50 Texas veterans completing a solar apprenticeship through veteran-owned Adaptive Construction Solutions (ACS). The program provided these veterans and other individuals from underserved populations with on-the-job training with the project's EPC contractor, McCarthy Building Companies, and the opportunity to continue working in solar construction with McCarthy upon completion.  
The "Celebrating Solar Career Paths for Veterans" campaign reached a global audience of millions through earned news coverage and digital communications channels, including a short video featuring testimonies from several apprenticeship program participants. Launched at an in-person event at Elm Branch Solar, more than 140 stakeholders, decisionmakers and participating apprentices received the message during an emotional ceremony the day before Veteran's Day 2021 as well.  
"Sharing the participants' candid voices enabled us to bring the stories the veterans themselves wanted to tell to the forefront in order to educate and inspire," said Mary Grikas, VP of Marketing and Communications for Lightsource bp in the Americas. "Our goal was to respectfully amplify their stories to help enact real change for underrepresented communities." 
The Inclusive Solar Outreach Awards are part of the American Made Challenges administered by the National Renewable Energy Laboratory through the U.S. Energy Dept. Solar Energy Technologies Office (SETO). The awards recognize communications campaigns that demonstrate excellence in strategic, effective, inclusive, and meaningful communication to diverse audiences.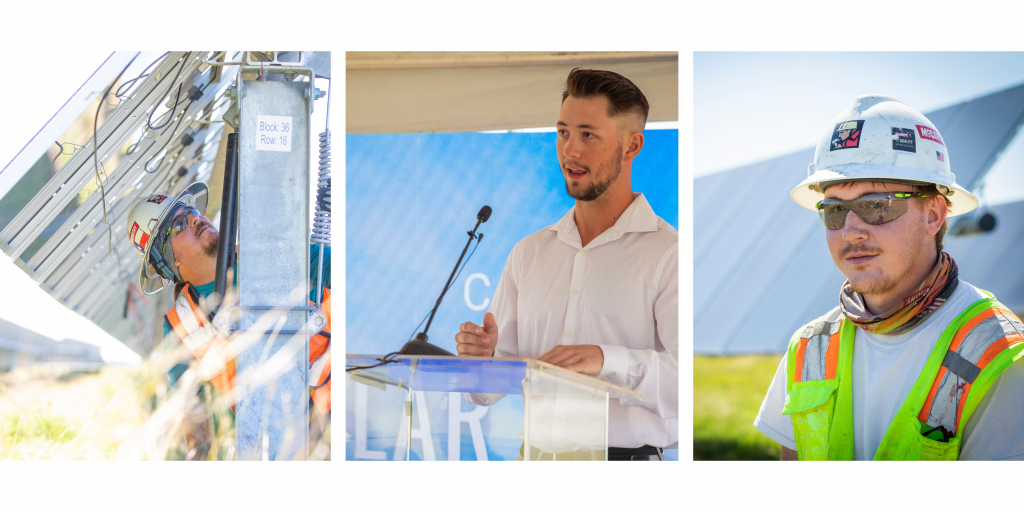 About the Solar Energy Technologies Office
The U.S. Department of Energy Solar Energy Technologies Office supports solar energy research,
development, demonstration and technical assistance to improve the affordability, reliability, and domestic
benefit of solar technologies on the electric grid. Learn more at energy.gov/eere/solar.