Researching the benefits of pollinator conservation at Bellflower Solar
Lightsource bp's 173MW Bellflower Solar project will produce clean energy and promote biodiversity while contributing to emerging academic research on the co-location of PV solar and pollinator habitat. 
The SETO study
Advancing research on pollinator habitat at solar facilities is essential for understanding the benefits of co-located conservation, as well as practical implementation strategies. The Pollinator Habitat Aligned with Solar Energy (PHASE) study, funded by the U.S. Department of Energy Solar Energy Technology Office (SETO), will measure ecological benefits of varying types of pollinator habitat at utility- scale solar projects across the Midwest, including Bellflower, in addition to photovoltaic performance and costs.   
The research team consists of the University of Illinois Chicago, the University of Illinois Urbana Champaign, the Argonne National Laboratory, and the National Renewable Energy Laboratory. Six solar facilities across the Midwest, including Bellflower, have been selected as field research sites for this study.   
Lightsource bp is proud to be contributing to this important project, which we hope will provide information for ourselves and our industry peers needed to scale-up co-located habitat establishment in the industry. 
Activities in support of research
Several activities are occurring at Bellflower to support the research, specifically:
4 types of grouped pollinator plantings (including a control)
sheep grazing and
bee keeping.
The development of the pollinator plantings was a collaborative effort with the University of Illinois – Chicago team, Conservation Blueprint, The Bee and Butterfly Fund, and the American Solar Grazing Association. In addition to high-density pollinator gardens, over 1,000 acres under and around the solar arrays will support lower-density pollinator plantings. These sites will provide shelter and forage for insects and other species that play vital ecological roles, including pollinating food crops.
The beekeeping research and honeybee colonies in a "bee yard" on site will be implemented by University of Illinois – Chicago researchers. Additionally, a local Indiana farmer will graze sheep on at least 100 acres of the site that overlap with pollinator-supportive plantings.
Assessing the results
Using visual inspections, insect nets, audio recorders and other methods, the researchers will be able to assess biodiversity– the variety and abundance of plant, insect, bird and bat species at the solar farm. As part of our Responsible Solar ethos, Lightsource bp aims to see net biodiversity increase at all its project sites to ensure healthy ecological performance can co-exist with clean energy generation.  
Researchers will also monitor installation and maintenance costs, as well as the performance of the PV arrays, to learn whether co-located pollinator habitat can have economic benefits as well.  
Additional land management activities at Bellflower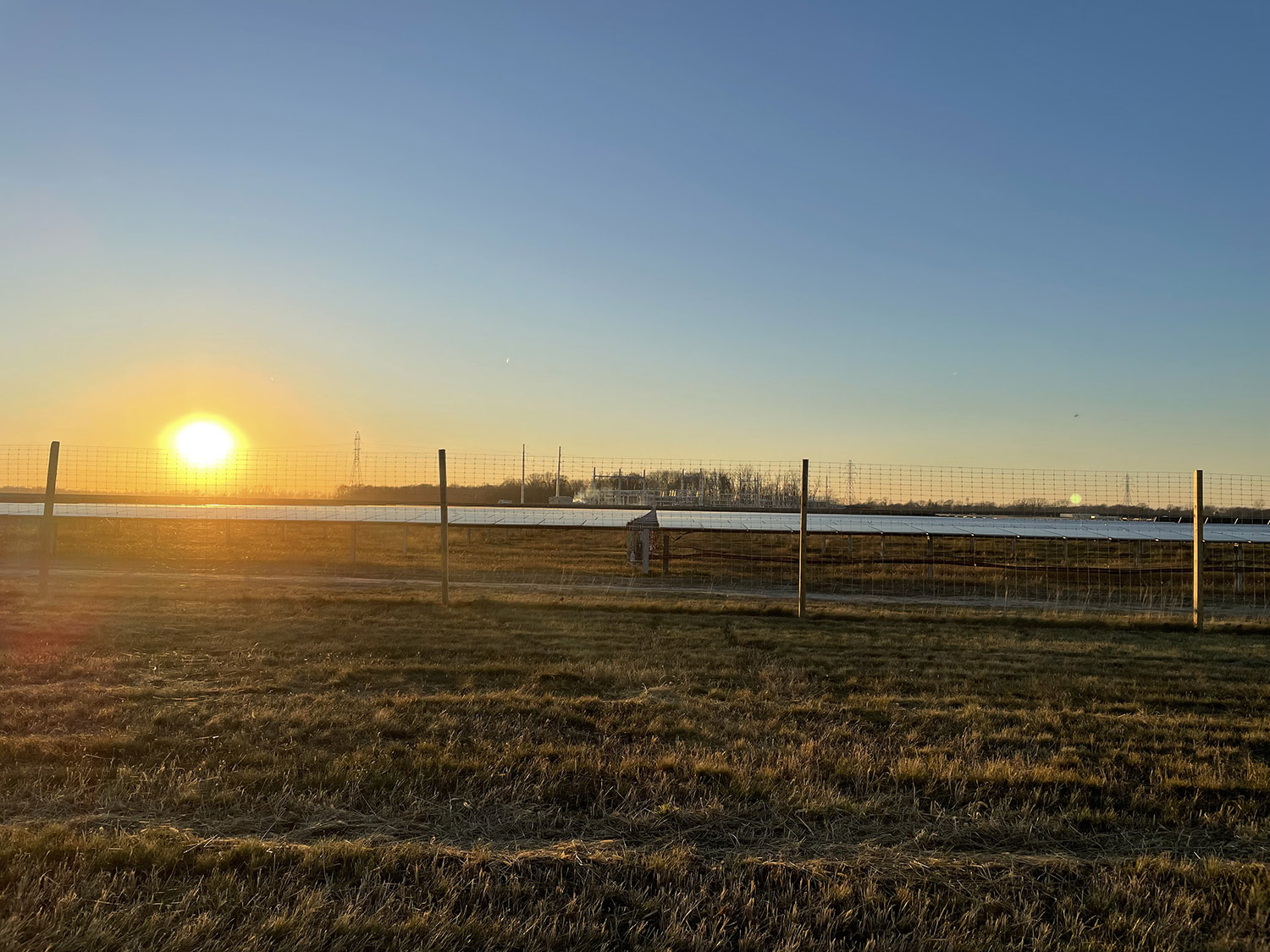 Perimeter fence installation, Bellflower Solar
As part of our land management best practices, Lightsource bp coordinated pre-construction seeding on approximately 700 acres of the site. The work was done by a farmer who is leasing land for the solar project. The practice of pre-seeding assists with soil and vegetation stabilization, along with weed suppression, prior to construction.
Additionally, we installed agricultural fencing, which we hope will become a new industry standard, designed to integrate with the rural landscape and blend with the aesthetic character of the area.
Discover Multiuse Solar
This project is one example of our commitment to co-locating responsibly sited solar projects with other land uses in the United States—an approach dubbed "dual-use solar."  Lightsource bp often goes a step further, building multiuse solar projects where clean energy generation shares land with multiple initiatives including agriculture, conservation, and research.