246MWdc
of clean, locally generated electricity distributed across 7 sites
400
jobs created during construction, the majority local workers
$40 million
dollars in new tax revenue over the project life, for schools as well as local and county governments
157,800
metric tons of CO2 emissions reduced every year
Cottontail solar is a 246 megawatt dc (191MWac) clean energy project that Lightsource bp is in the process of developing on seven sites spanning six Central Pennsylvania counties. The project will do more than generate clean energy and reduce harmful greenhouse gas emissions that are affecting the health of Pennsylvanians. It will create jobs, bring millions of dollars in investment to local communities and the Commonwealth, conserve area flora and fauna, and provide a diversified source of income for farmers in the community who are leasing their own property, enabling them to maintain their land for future generations.
The electricity produced by the solar farms will enable the Commonwealth of Pennsylvania to source approximately 50 percent of its annual energy consumption from solar as part of Pennsylvania PULSE (Project to Utilize Light and Solar Energy). In total, the project will supply 361,000 megawatt-hours of electricity annually to 16 Commonwealth of Pennsylvania agencies, reducing the Commonwealth's carbon footprint by 157,800 metric tons of CO2 each year while diversifying its energy portfolio and increasing security with locally generated power.
A mapping tool from The Nature Conservancy is used to confirm that the project sites we're developing are not located on high value biodiversity areas or wildlife corridors that are critical for species to adapt and respond to climate change. We have been developing the sites in a phased approach, working closely with the local communities and going through the local permitting processes. The first phase of PULSE will be coming online in 2023. 
Local benefits
Job creation: The project will help grow the Pennsylvania solar market and rewarding careers for current and future generations in solar energy, and will employ over 400 workers in total across the 7 sites during construction, with the vast majority coming from central Pennsylvania.
Tax revenue: In total, an estimated $40 million in property tax revenues over the life of the project will stay in the local communities, a significant increase over current payments.
Stormwater benefits: The solar farms may significantly reduce sediment runoff by converting tilled row crop acreage to permanent cover crop of native grasses that can intercept and retain stormwater.
A healthier environment: 157,800 metric tons of carbon dioxide will be abated each year, the equivalent to emissions from about 34,092 cars.
Biodiversity conservation: Studies have confirmed that solar projects can increase wildlife populations and overall biodiversity by allowing soil and habitat to regenerate from previous intensive land use practices.
Land regeneration: Soil will be protected from erosion, have far fewer chemicals than traditional farming, and be allowed the opportunity to "rest" similar to fallowed parcels under USDA's Conservation Reserve Program.
Community dialogue – we want to be a good neighbor
At Lightsource bp, we not only develop solar projects. We own and operate them, making us a committed long-term partner in Pennsylvania and the local communities where we operate.
A critical step in all of our projects is soliciting community feedback to help shape our final plans. We welcome your questions and comments to ensure that each Cottontail solar farm is a great project for your community.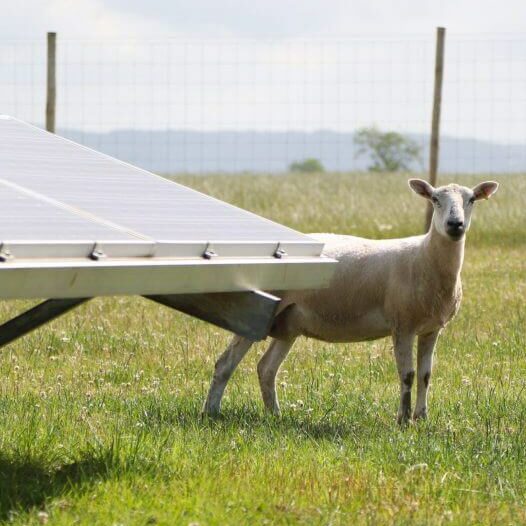 It's so much more than a solar farm
A solar farm is so much more than you think. It's a jobs farm. It's a biodiversity farm. It's an educational farm for local schools. It's a new year-round type of harvest for your neighbor farmers that helps them keep their land for future generations.
It's also an agrivoltaics farm. Lightsource bp is a member of the American Solar Grazing Association (ASGA), a non-profit founded by farmers dedicated to agrivoltaics: the combination of agriculture and solar photovoltaics through sheep grazing on solar sites to maintain the land and keep it in agricultural production. Working in partnership with ASGA, local farmers, grazing and ecology experts, we're planning to implement sheep grazing at our solar sites wherever possible.
Why solar?
Solar is a passive form of technology, generating emissions-free electricity that adds security to our country's energy mix. This, combined with its ability to bring our country's energy costs down makes it an ideal energy source for the US.
Solar farms are quiet, clean neighbors. They don't emit any noise beyond the site boundaries and can be designed with screening to limit project visibility from neighbors' residences and nearby roads.
With a long-term land management plan, studies have shown that solar farms can meaningfully increase wildlife populations and biodiversity.
Solar farms can help strengthen rural economies by creating local jobs, contributing significant annual revenue for local counties, providing dependable revenue to landowners in order to supplement farm income, and bringing multimillion dollar annual operations budgets that are primarily spent in the region.
Our responsible solar approach
Example of fencing that will be used for the Cottontail solar farms
Lightsource bp has a deep commitment to delivering safe, clean and affordable energy, as well as maximizing the environmental sustainability and positive social impacts of each of our projects. We call this approach responsible solar. We pay attention to every detail, from the fencing we choose to the vegetation we plant. As the project owner and operator, we want our Cottontail solar farms to be a great project for the local communities and the Commonwealth.
Customized long term land management plans
Once a solar farm is built, it becomes a nature haven that's undisturbed for many years. We have seen plant and wildlife habitats increase at our solar farms, and our goal is to create plans that will increase local biodiversity.
Screening and setbacks from residential areas
We design setbacks from nearby property lines, and plant evergreen screening wherever needed to protect our neighbors' viewsheds. We're eager to work with our neighbors on what types of plantings they prefer.
Discreet fencing
Based on initial feedback from the local community, we have selected cedar post farm fencing for our Cottontail solar farms that will better integrate with the rural landscape and wildlife.
Pledge to recycling
Lightsource bp is committed to recycling all panels at our solar farms in the US – that includes any panels damaged during construction, operations, and all panels left at the end of life / decommissioning.
Information and resources
We've put together a collection of resources for anyone who'd like to know more about our Cottontail solar farm project – or about solar in general.
Stories
Find out more about our Responsible Solar approach