173MW of renewable energy near Indianapolis
$30 million
in property taxes, benefitting local schools u0026 public services
200 jobs
during construction, hiring local subcontractors and recruiting from the local labor pool
202,000 metric tons
of carbon emissions saved each year – the equivalent to taking 48,260 cars off the road
Site Selection & Preliminary Design
Permitting & environmental studies
Land management & biodiversity planning
Final engineering, financing & construction
Decommissioning & recycling
Lightsource bp has mobilized construction on the Bellflower solar farm in Indiana, about 40 miles east of Indianapolis in Spiceland Township. Bellflower was financed with private capital, will be owned and operated by Lightsource bp, and will have an output power capacity of 173 megawatts – generating enough clean energy to power the equivalent of 26,800 local homes per year.
Lightsource bp has financed, mobilized construction, and will own and operate the facility and sell the solar energy it generates to Verizon Communications under a long-term power purchase agreement. Full construction has started, with commercial operation expected by late 2022. The Bellflower project is creating about 200 jobs during construction.
The site for Bellflower was carefully selected. Our project development included site specific environmental assessments that include cultural surveys, threatened and endangered species assessments, wetlands delineations, as well as consultation with wildlife regulatory agencies. Another important aspect of our development process is Lightsource bp's commitment to engaging with local stakeholders within the community.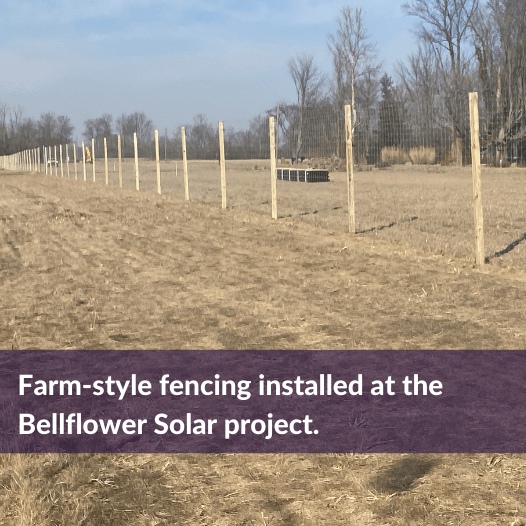 Information and resources
We've put together a collection of resources for anyone who'd like to know more about our Bellflower solar project – or about solar in general
Solar farm FAQs
We've put together a list of the most commonly asked questions, and their answers
Stories
Find out more about our Responsible Solar approach