A changing energy landscape
The energy landscape is changing. At Lightsource bp, we believe renewable energy is the future. And that future is now.
As a global leader, we've spent the past decade driving solar forward and we're not stopping any time soon. If the world is to combat climate change while meeting rising electricity demand, business can't continue as usual. We need a rapid shift from conventional to renewable energy sources at scale.
Sustainable, reliable, affordable energy
Solar power is resilient, reliable and predictable. As a locally-produced, sustainable and secure form of electricity, this passive technology is playing a vital role in the world's development of climate change solutions.
These benefits of solar, combined with its affordability and reliability during periods of peak electricity demand, makes it an ideal clean energy source for today's world.
Utilising land for power, nature, and food
Each solar panel farm is designed with lots of wide-open spaces. This means they provide many opportunities for multi-purpose land management. From sheep grazing and biodiversity initiatives, our projects provide opportunity to create additional land use for local benefits.
Considering local communities
As a responsible solar developer, it's important for us to be good stewards of the land, and long-term partners of local communities. Many of our solar farms have a lifespan of up to 40 years.
Lightsource bp works with various stakeholders when building our solar projects, to make sure they benefit the local community – not just by generating sustainable electricity, but by supporting the local ecosystem as well.
We construct our solar projects with a view to improving soil health, fostering biodiversity, and strengthening rural economies. From ecological assessments to community engagement, we do our best to create solar farms that local communities can be proud of.
Take a look around
To see the benefits of solar power in action, take a look around some Lightsource bp solar projects.
Marley Thatch solar farm
A day in the life of a solar farm
Vendimia Solar in Aragon, Spain
Raising sheep on solar farms: Meet families helping revive America's sheep industry
Birch Solar Farm in Ohio
Belfast International Airport – Solar PPA
Join Lightsource bp
Choose a career where you are empowered to change the world! If you are passionate about accelerating the energy transition, and looking to join a global collaboration of team members focused on delivering sustainable power, visit our careers page to find out more about working at Lightsource bp.
Buy renewable power
Lightsource bp provides utilities, businesses, and governments opportunities to procure renewable power with no up-front capital investment.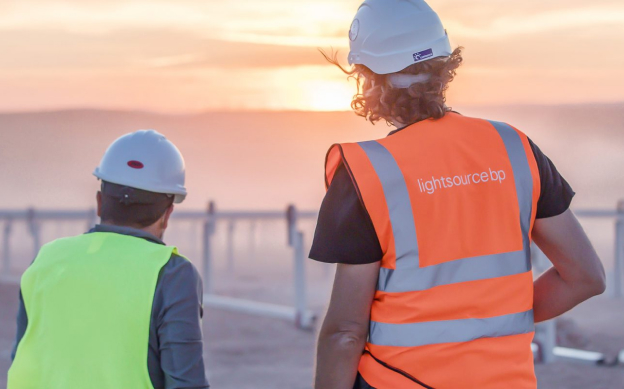 Partner with us
We believe that the world's transition to a low-carbon future can only be achieved through meaningful partnerships.