Environmental stewardship
We are going beyond business as usual to enhance ecosystems and biodiversity, take science-based climate action, and improve circularity.
Biodiversity
The global loss of biodiversity plays a clear role in the acceleration of climate change.
To combat this, as part of our work to develop sustainable renewable energy, we are also committed to not only avoiding damage to the environment but making a positive impact through our work. We do this through careful habitat creation and biodiversity enhancement. In 2022, 89% of our Lightsource bp-developed projects had a Biodiversity Management Plan.
This includes:
careful site selection, avoiding sensitive and protected areas
robust environmental impact assessments
identifying opportunities for biodiversity enhancement
biodiversity management plans (BMP)
Read more in our:
Multi use solar farms
Solar farms temporarily set aside land and protect it from permanent loss due to industrialisation and urbanisation – and they afford countless opportunities to layer on the benefits of solar since the land under and around the panels is protected for decades.
In fact, 50% of our 2022 developed projects have grazing implemented or proposed.
Benefits of multi use solar farms
Ground mounted solar panels sit on posts, several feet in the air. The posts themselves cover less than 10% of the ground. This leaves plenty of open space underneath to maximise the sustainable benefits of solar.
On many of our solar farms, the ground is seeded with grasses and pollinator-friendly flowers before construction. This helps stabilise the soil during construction and provides habitat for insects and wildlife throughout the project life.
Agrivoltaics is the co-location of solar and agriculture. At some of the facilities, small livestock graze beneath the panels. We are also working to co-locate food crops with solar.
As vegetation and manure decompose, they enrich the soil with carbon and nutrients. Underground, the soil remains undisturbed for decades.
Greenhouse gas (GHG) emissions
Through our solar energy solutions, Lightsource bp is already providing low-carbon renewable energy. But we also recognise that we can do more to reduce emissions associated with our operational footprint and our supply chain.
Emissions reduction targets
As we continue to deliver solar energy at scale, we will need to work collaboratively with the solar value chain to implement change and reduce emissions.
Our GHG emissions targets:
reducing our absolute scope 1 and 2 GHG emissions 42% by 2030 from a 2021 base year
reducing our scope 3 GHG emissions 52% per MW generation capacity constructed by 2030 from a 2021 base year
For the 2022 reporting year, we have used this GHG Basis of Reporting.
We publish our GHG emissions across Scope 1, 2, and 3 in our annual Sustainability Report, which you can download below.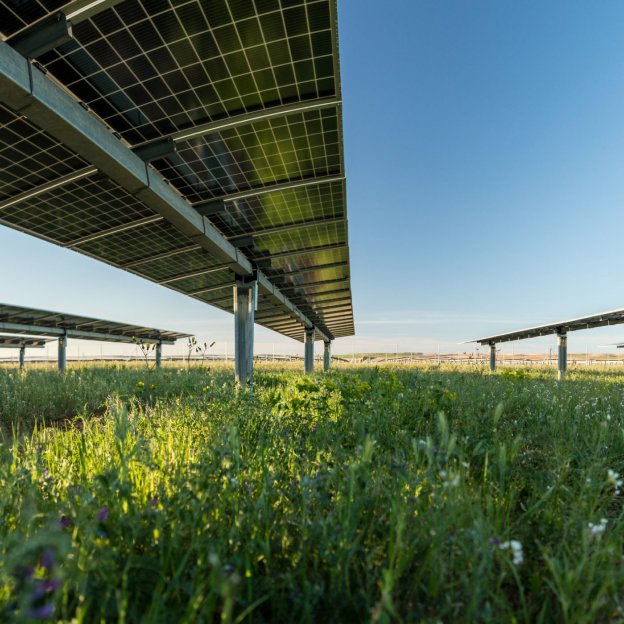 Circularity
As a company that develops, constructs, and operates solar facilities, we can positively impact the waste footprint of our operations by working with our suppliers in design, construction, and operation.
Quality – One of the most important actions we can take to reduce waste is to design and construct with quality, to extend the life of the asset.
Waste management – We require our primary suppliers and contractors to follow local and regional waste regulations. We are also working to increase the visibility of our construction and operations waste footprint.
Solar panel recycling – To reduce waste to landfill, we commit to reuse, refurbish, or recycle solar panels in our owned assets.
Energy
Read about how we're decarbonising across our business, protecting ecosystems and minimising waste.
Social responsibility
Read about how our business is committed to benefitting communities, and creating a safe and healthy place for people to work.
Join Lightsource bp
Choose a career where you are empowered to change the world! If you are passionate about accelerating the energy transition, and looking to join a global collaboration of team members focused on delivering sustainable power, visit our careers page to find out more about working at Lightsource bp.